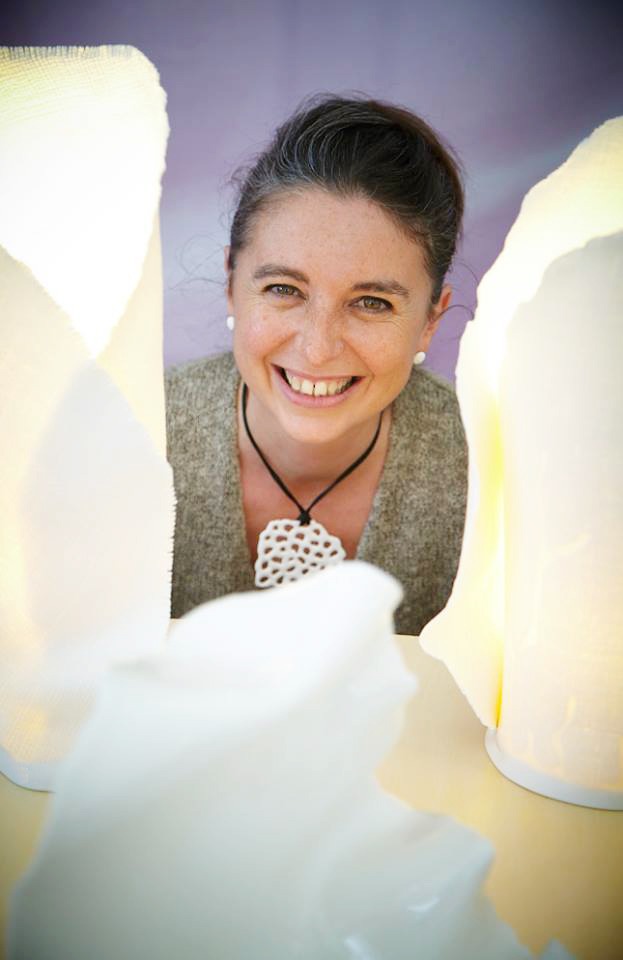 STATEMENT
The thin white thread is my means of expression, my gaze on reality.
I like handling porcelain as a cloth reducing it into thin threads to weave together and randomly overlap to create big bundles of porcelain that "protect" or "close" in a shape like cotton bandages
White is my favorite color, with the sense of lightness and purity that inspires, and the bisque surface that allow you to better perceive the complex processing and make each object a visual and tactile experience.
Nothing is static: porcelain becomes thread, thread becomes object or fabric, fabric sometimes becomes light; each work is the product of the union between the gaze, the material and the heat of the Kiln in which it take shape.
EDUCATION
1999

Degree in Architecture- Politecnico di Torino


2005

Piero Maddalena –Certaldo- Itay


2005-2007

Elisabetta Vacca -Turin-Italy


2009-2011

Luca Tripaldi –Turin-Italy


2012

Natalie Domingo– Sevres – France
FAIRS AND EXHIBITIONS
2022

Resonance(s) – Strasbourg – France
2022

XXIII International Ceramic Fair – Florence – Italy


2022

Argilla' Faenza-International Ceramic Fair– Faenza- Italy


2022

Porzellan Biennale – Meissen – Germany


2022

Topfermakt Gmunden – Gmunden – Austria


2022

Terralha– Festival Européen des Arts Céramiques – Saint-Quentin-la- Poterie- France


2021

III International Biennial of decorative Applied Arts – Special prize-
Tashkent- Uzbekistan


2021

Premio BACC- Collective Exhibition- Frascati- Italy


2021

III Terrae- Turin – Italy


2021

XXII International Ceramic Fair – Florence – Italy


2021

III Ceramic Fair–Verona- Italy


2021

Made in Italy – Faenza – Italy


2020

Saint-Sulpice Céramique -Paris-France selected


2020

Made in Italy -Faenza-Italy


2019

Le Printemps des Potiers – Bandol- France


2019

International Ceramic Fair -Verona- Italy


2019

"Terrae" Turin-Italy


2019

Keramikmarkt Naturno –Italy


2019

"Intrecci" –Collective Exhibition- Gart Gallery – Neive Italy


2018

Keramik und Porzellan im Augarten – Wien – Austria


2018

Argilla' Faenza- International Ceramic Fair- Faenza- Italy


2018

"Ceramica in Circolo" –Collective Exhibition– Faenza – Italy


2018

"Ceramics in Love" –Collective Exhibition– Castellamonte – Italy


2017

Keramik und Porzellan im Augarten – Collective Exhibition-Wien-Austria


2017

Le Printemps des Potiers – Collective Exhibition- Bandol- France


2017

III National Competition CeramicAppignano- Selected – Collective Exhibition-Appignano- Italy


2016

Argilla' Faenza- International Ceramic Fair– Faenza- Italy


2015

XVI International Ceramic Fair –Florence – Italy


2015

Argilla' Argentona-International Ceramic Fair– Argentona – Spain


2015

VI International Competition – Selected- Collective Exhibition-Cerreto Sannita – Italy


2014

XV International Ceramic Fair –Florence – Italy


2014

International Ceramic Fair– Montelupo Fiorentino- Italy


2013

V Ceramic Triennal in Este – Selected "In e Out"-Collective Exhibition – Este – Italy


2013

Keramina – Cecina- Italy


2012

XIII International Ceramic Fair -Florence– Italy


2012

IV Ceramic Exhibition -Murazzano- Italy


2011 XII International Ceramic Fair –Florence – Italy