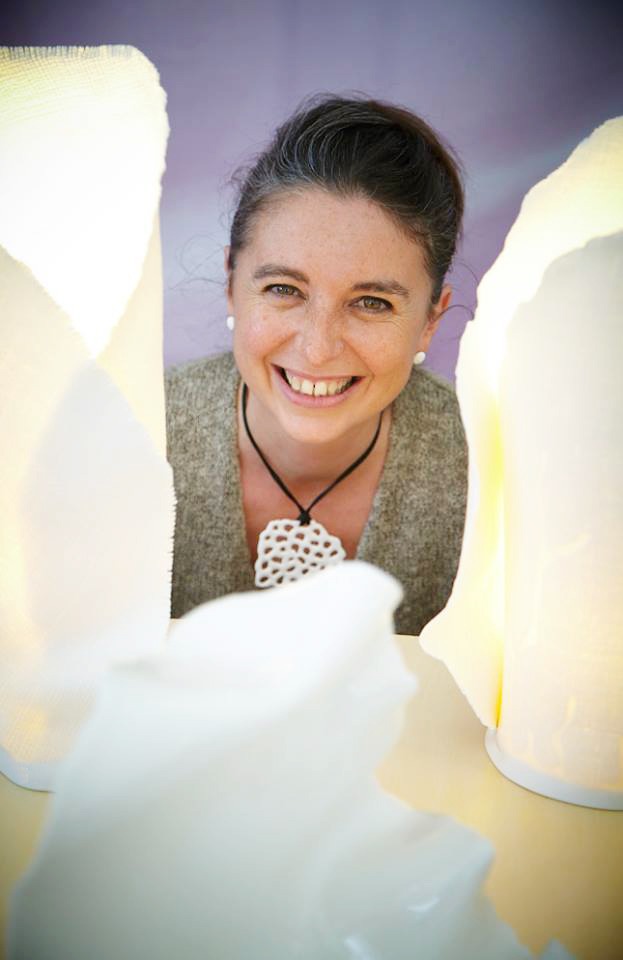 STATEMENT
My work explores the potential of porcelain by mean of different techniques; several artworks and collections share the softness of shapes, whose basic design is combined with movements and deformations created by high firing temperature.
I like handling porcelain as a cloth, emphasizing the softness and lightness or cut to thin wires to weave together and randomly overlap to create big bundles of porcelain that "protect" or "close in" a shape like cotton bandages.
In lamps collections, porcelain is worked in very thin slabs where I like to combine texture's effects with designs created by removing part of the material; for all my artworks I want to have a double function: visual ad tactile.
EDUCATION
1999

  Degree in Architecture- Politecnico di Torino


2005

  Piero Maddalena –Certaldo- Itay
2009-2011

Luca Tripaldi –Torino-Italy
2012

  Natalie Domingo– Sevres – France
FAIRS AND EXIBITIONS
2019

Le Printemps des Potiers – Bandol- France
2019

International Ceramic Fair -Verona- Italy
2019

"Terrae" Torino-Italy
2019

Keramikmarkt Naturno –Italy
2019

"Intrecci" –Collective Exibition- Gart Gallery – Neive Italy
2018

Keramik und Porzellan im Augarten – Wien – Austria
2018

Argilla' Faenza-Fiera International Ceramic Fair- Faenza- Italy
2018

"Ceramica in Circolo" –Collective Exibition– Faenza –  Italy
2018

"Ceramics in Love" –Collective Exibition– Castellamonte – Italy
2017

  Keramik und Porzellan im Augarten – Collective Exibition-Wien-Austria
2017

  Le Printemps des Potiers – Collective Exibition- Bandol- France
2017 

III National Competition CeramicAppignano- Selected – Collective Exibition-Appignano- Italy
2016

  Argilla' Faenza- International Ceramic Fair– Faenza- Italy
2015

  XVI International Ceramic Fair –Florence – Italy
2015

  Argilla' Argentona-International Ceramic Fair– Argentona – Spain
2015

  VI International Competition – Selected- Collective Exibition-Cerreto Sannita – Italy
2014

  XV International Ceramic Fair –Florence – Italy
2014

  International Ceramic Fair– Montelupo Fiorentino- Italy
2013

  V Ceramic Triennal in Este – Selected "In e Out"-Collective Exibition –  Este – Italy
2013

  Keramina – Cecina- Italy
2012

  XIII International Ceramic Fair -Florence– Italy
2012

  IV Ceramic Exibition -Murazzano- Italy
2011

  XII International Ceramic Fair –Florence – Italy